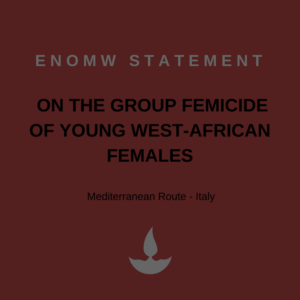 Brussels, 8 November 2017
Over 26 West African females, suspected to be from Nigeria and aged 14-18, have been found dead in the Mediterranean Sea in the recent days. The death of migrants at sea, from being a "tragedy" once, has now become a "norm" in Europe.
In the case of Sub Saharan females whose lives have been lost en route to Europe, it is an outcome of the border management aggressively pursued by the European institutions. It is also an outcome of systemic male violence perpetrated against women at every stage of their journeys, outside and within Europe.
While the Italian authorities are investigating this criminal case, European Network of Migrant Women condemns, in strongest terms, this act of Violence against Women, and is calling for timely, lawful and effective investigation in which the primacy of human rights should be respected above "security", "political" and "economic" motives, in accordance with the EU Treaties and Charter of Rights.