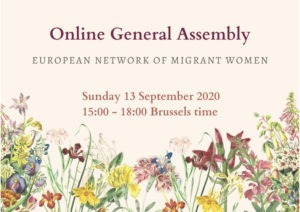 On Sunday 13 September members of our Network met online to assess the progress of the Network since the last General Assembly in Lisbon. The unfortunate circumstances of COVID19 prevented us from meeting as was originally planned. However, the first ever virtual Assembly of the Network was a big success ! Together, we exchanged on the progress of many internal structures in the Network, adopted 2019 financial report, admitted new full members and celebrated the Women of ENoMW with "Valour and Persistence Award" that was given to six outstanding members of the Network for their courage and determination in the current hostile climate to both women and migrants' rights. 
---
The New FULL Members admitted to ENoMW:
Valour & Persistence Award 2019
This year, at our online Annual General Assembly we awarded six of our members with the Courage & Persistence Award. Women from Argentina, Estonia, Mexico, Kenya, Brazil & Portugal, Turkey, who not only had the courage to cross geographical borders in pursuit of women's freedom and happiness but also continued to uphold these values – for the benefit of all women and girls globally – in their everyday life, and carry forward the values, convictions and mission of our Network.
Despite the most adverse circumstances, these six women spoke truth to power with courage and determination, and we thank them for their commitment! They showed great courage in the face of danger, especially in the feminist battle, and didn't give up on their opinions and courses of action in spite of difficulty and opposition. They resisted. They persisted.
Valour and Persistence Award is supported by FILIA Conference, the largest annual feminist conference in the UK. As part of the award the members of ENoMW will have an opportunity to visit FILIA scheduled to take place on 16-17 October 2021, in Portsmouth, UK.