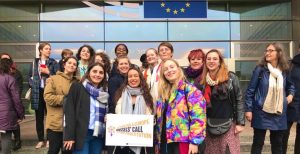 "No one gets trafficked because they are vulnerable but because someone benefits from it. If we get rid of profiteers, we can fight against trafficking of women and girls." – Myria Vassiliadou, European Commission Anti-Trafficking Coordinator at Brussels' Call
The European Network of Migrant Women participated in the European Week of Action to End Sexual Exploitation (13-18 October 2019) organised by European Women's Lobby.
Although it has been five years since the European Parliament adopted the Honeyball Resolution which recognises that prostitution violates human dignity and human rights and is a form of violence against women, there is still a lack of viable action in European institutions. Progress has been achieved with Northern Ireland (2015), France (2016) and the Republic of Ireland (2017) joining the Nordic countries, Sweden, Norway and Iceland, by introducing the Equality Model. Nevertheless, sexual exploitation of women remains a crucial component of sex-based discrimination across Europe and the globe. It is therefore of the utmost importance that we come together and call on European leaders to take action through the implementation of European legislative on prostitution.
On 16 October 2019, representatives of more than 25 national campaigning groups came together in the European Parliament to challenge the patriarchal system of sex-based discrimination and call for a Europe free from prostitution. The following day, our members, staff and representatives of Radical Girlsss, our young women group, came together with Brussels Call partners to strategize, share and learn from each other about how we can move towards a Europe free from sexual exploitation.
During the week of action, campaigners, including the survivors of prostitution, women's rights groups, migrant women organisations and youth, have advocated for the Equality Model –also known as the Nordic, Swedish, or abolitionist model— as a legal model for responding to the sex trade and to work together to ensure that all directly affected by prostitution are decriminalised while holding pimps, traffickers and buyers accountable. Campaigners promoted the development of exit programmes for those in prostitution as well as advocated for real employment options, especially for migrant women who are disproportionally affected by the system of prostitution.
As partners of the Brussels Call campaign, The European Network of Migrant Women recognises prostitution as a form of violence which subjugates women and children to many forms of exploitation, objectification and dehumanisation. We reject the idea that women's bodies should be available for men's benefit as it upholds the patriarchal control of women's integrity and sexuality and contributes to other forms of violence such as rape, sexual harassment and intimate-partner violence. Moreover, we assert that the system of prostitution fuels trafficking in human beings for sexual exploitation.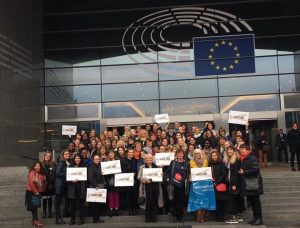 As part of the week of action, our exhibition, #RiseUpAgainstOppression, was launched in the European Parliament and hosted by the S&D MEP Maira Noichl. The public campaign Rise Up Against Oppression, available in English, French, Spanish, Portuguese, Arabic, Russian, Polish, Italian and Hungarian, is a collection of 40 posters representing diverse voices of women, including many members of the European Network of Migrant Women, as well as world-wide activists, scholars, politicians and the sex trade survivors themselves, concerned with the global problem of sexual exploitation of women. It explores the male control of female bodies at the intersections with capitalism, colonialism, poverty, racism, migration, sexuality, as well as the moral and legal questions of "choice", "freedom", "rights". The idea of this collection is to position the debate on prostitution within a wider framework on human rights and let the viewer reflect on multiple ways in which patriarchal violence against women is interlinked with other forms of systemic inequalities. The collection is available in digital format and European Network of Migrant Women is happy to share it with those who want to host it locally. To reserve the exhibition please contact info@migrantwomennetwork.org