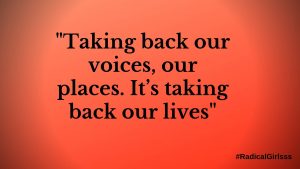 #RadicalGirlsss #WhyRadical #RGWeekly 🔥🔥🔥
FR & ES BELOW
All our lives, as girls, as young women, we have been told over and over that women never invented, women never created, women never existed.
When we were girls and first started reading, books taught us that boys could do anything – explore and conquer, fight injustice, save others and themselves. The same books never showed that girls were able to do the same. They made us believe that we were supposed to wait around for a boy to come and save us. Because in books and fairytales, the only women with power are witches and we are told that witches are bad. They are destined to be ugly, mean and always alone.
When we were girls and first started going to school, we looked around and all we saw were boys – running around, occupying space like it was theirs, exploring and conquering, similar to the books we read. Girls? We were stuck on the sides, always discreet, always calm, because a girl is supposed to be that way, right? Pretty with nice clothes that prevent us from running, nice hair that prevent us from seeing. Soft and sweet, unable to defend ourselves when boys came to lift our skirts or stole kisses, unable to find help because the adults used to always look the other way and say "boys will be boys".
When we were girls and we first started to speak, we learnt French, a language in which women are nowhere, a language that has rules such as "the masculine form takes precedence over the feminine form". When we grew up and learnt other languages we realised that it is not just French. In most languages, women do not exist.
When we were girls and loved going to class, we also loved learning about history and literature, sciences and arts. But we were only told about what men created. What men did for History, what men wrote, what men invented… we were never told about Alice Guy who invented cinema as we know it, nor about Nelly Bly who revolutionized journalism against all odds, nor Emmy Noether who was critical in the development of mathematics, nor Mary Andersen, Maria Telkes, Grace Hopper, Stephanie Kwolek, Ann Tsukamoto…
We never knew that women invented life rafts, syringes, refrigerators, ice cream machines, data processing, telecommunication technology, wireless transfer, video surveillance, circular saws, central heating, distress rockets, clear glass, suspended bridges, submarines…
We never knew that we discovered the structure of the DNA, the genetic code of bacterias, the chemical composition of stars, hundreds of planets, dark matter, nuclear fission, the therapy for leukemia, the therapy for human papillomavirus, X and Y chromosomes.
We never knew about Enheduanna, first known female writer, about Fatima el Fihriya who founded the world oldest University, about Trotula de Salerne who was one of the first people to ever talk about women health and gynecology. We never learnt about the strong and brave women that fought against colonisation in every single continent : Fatma N'Souer in Algeria against the French, Manuela Saenz in South America against the Spanish, Tarenorerer in Australia against the British.
We never knew we fought wars and traveled, explored and discovered, we never knew we lead people and armies, inspired and created. We never knew we flew and we sailed, we were pilots and pirates… we never knew because no one ever told us.
All our lives, as girls, as young women, we were told it was that way, we were told "women never invented anything". We never saw any strong and complex female models in history books, TV, radio, in politics, in museums, in movies… we found ourselves nowhere.
It's often said that girls start feeling like they are less than boys around the age of 6. Why wouldn't we when everything is done to limit our universe? In a world where everything is masculine from the name of our streets to the character of the books we love, from Gods to Presidents, how can we dream ourselves strong, inspiring, complete?
We think about all these women that are erased… All these women that we are prevented from admiring or aspiring to become. Their mere existence are obliterated to have us believe that we cannot accomplish anything, that we only exist to be beautiful and care for others… we would have loved to know about all of them sooner, to learn their names. All these women that made History but were forgotten. Artists, scientists, activists, heroins, survivors who disappeared from our collective memories because of sexism.
As women, we believe we have a duty to tell their stories, all of them. To our sisters, to the girls around us and to the world. Because telling about them is telling about ourselves. Taking back our voices, our places. It's taking back our lives.
– RadicalGirlsss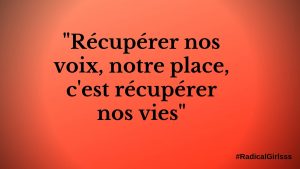 FR_________________________________
"Les femmes n'ont jamais rien inventé"
Toute notre vie, en tant que filles, en tant que jeunes femmes, on nous a répété que les femmes n'ont jamais rien inventé, que les femmes n'ont jamais rien créé, que les femmes, au fond, n'ont jamais vraiment existé.
Quand on était petites filles et qu'on a commencé à lire, les livres nous ont appris que les garçons sont capables de faire ce qu'ils veulent – explorer et conquérir, se battre contre l'injustice, sauver les autres et se sauver eux-mêmes. Ces mêmes livres ne nous ont jamais montré qu'une fille pouvait faire la même chose. Ils nous ont laissé croire que nous sommes supposées attendre qu'un garçon vienne nous sauver. Car dans les livres et dans les contes de fées, les seules femmes qui ont du pouvoir ce sont les sorcières. Et on nous explique que les sorcières sont mauvaises, qu'elles sont laides, méchantes et destinées à rester seules.
Quand on était petites filles et qu'on a commencé à aller à l'école, on regardait autour de moi et on ne voyais que des garçons – ils courraient, occupaient tout l'espace comme si le monde leur appartenait, ils exploraient et ils faisaient des conquêtes, comme dans les livres que je lisais. Les filles ? On était reléguées sur les côtés, toujours discrètes, toujours calmes… Parce qu'une fille doit être comme ça, pas vrai? Jolie dans de beaux vêtements qui nous empêchent de courir, avec de beaux cheveux qui nous empêchent de voir. Gentilles et douces, pas capables de nous défendre quand les garçons viennent soulever nos jupes ou nous voler des baisers, pas capable de trouver de l'aide car les adultes nous ont toujours dit que de toutes façons, c'est comme ça.
Quand on était petites filles et qu'on a commencé à parler, on appris le français, une langue de laquelle les femmes sont effacées, une langue avec des règles comme "le masculin l'emporte sur le féminin". Quand on a grandi, on a appris d'autres langues et on a réalisé que ce n'est pas que le français… Dans la plupart des langues, les femmes n'existent pas.
Quand on était petites filles et qu'on adorais aller à l'école, qu'on j'adorais apprendre les cours d'Histoire et de français, de sciences et d'arts, on nous a seulement parlé de ce que les hommes ont créé. Ce que les hommes ont fait pour l'Histoire, ce qu'ils ont écrit, inventé… On ne nous a jamais parlé d'Alice Guy qui a été fondatrice du cinéma tel que nous le connaissons aujourd'hui, ni de Nelly Bly qui a révolutionné le journalisme malgré l'adversité. On ne m'a pas non plus parlé d'Emmy Noether qui a été essentielle pour le développement de la pensée mathématique, ni de Mary Andersen, Maria Telkes,Grace Hopper, Stephanie Knowlek, Ann Tsukamoto…
On n'a jamais su que les femmes ont inventé les radeaux de sauvetage, les seringues médicales, les réfrigérateurs électriques, les machines à crème glacée, l'algorithme informatique, la plupart des technologies de télécommunication, la transmission sans fil, la vidéosurveillance, la scie circulaire, le chauffage central, la fusée de détresse, le verre transparent, les ponts suspendus, les sous-marins… On n'a jamais su que nous avions découvert la structure de l'ADN, le code génétique des bactéries, la composition atomique des étoiles, des centaines de planètes, la matière noire, la fission nucléaire, le traitement contre la leucémie, le traitement contre le papillomavirus, les chromosomes X et Y.
On n'a jamais entendu parler d'Enheduanna, première autrice connue à ce jour, ou bien de Fatima el Fihriya qui a fondé la plus ancienne Université au monde. On ne nous a jamais rien dit à propos de Trotula de Salerne qui a été l'une des premières personnes à parler de santé des femmes et de gynécologie. On n'a jamais rien appris à propos des femmes fortes et courageuses qui se sont battues contre la colonisation sur les 5 continents : Fatma N'Souer en Algérie contre les français, Manuela Saenz en Amérique du Sud contre les espagnols, Tarenorerer en Australie contre les anglais…
On n'a jamais su que nous avons combattu et que nous avons voyagé, que nous avons exploré et que nous avons découvert. On n'a jamais su que nous avons dirigé des peuples, des armées, que nous avons inspiré et créé. On n'a jamais su que nous avons volé et navigué, que nous étions des pilotes, des pirates… On n'a jamais su parce que personne nous en a jamais parlé.
Toute notre vie, en tant que filles, en tant que jeune femmes, on nous a dit "c'est comme ça", on nous a dit "les femmes n'ont jamais rien inventé". On n'a jamais pu voir de modèles féminins fortes et complexes dans les livres d'histoire, à la télé, à la radio, en politique, dans les musées ou dans les films… On ne se retrouvait nulle part.
On dit souvent que les filles commencent à se sentir inférieures aux garçons vers l'âge de 6 ans. Comment pourrait-il en être autrement quand tout est fait pour limiter notre univers? Dans un monde où tout est masculin, du nom des rues aux personnages des livres, des Dieux aux Présidents, comment se rêver forte, inspirante, achevée?
On pense à toutes ces femmes qui ont été effacées, qui auraient pu être nos modèles. Toutes ces femmes qu'on nous a empêché d'admirer ou d'aspirer être. Jusqu'à leur existence a été annihilée pour nous laisser penser que nous ne pourrons jamais rien accomplir, que nos vies sont destinées à la beauté et au soin des autres… On aurait adoré les connaître plus tôt, apprendre leurs noms. Des artistes, des femmes de science, des militantes, des héroïnes, des survivantes, que le sexisme a fait disparaître de nos mémoires.
En tant que femme, on pense que nous avons le devoir de raconter leurs histoires, toutes leurs histoires. A nos soeurs, aux filles qui nous entourent et au monde entier. Car raconter leurs histoires c'est nous raconter nous-même. Récupérer nos voix, notre place. Récupérer nos vies.
– RadicalGirlsss
ES_________________________________
"Las mujeres nunca inventaron nada"
Todas nuestras vidas, como niñas, como mujeres jóvenes, nos han dicho una y otra vez que las mujeres nunca inventaron, las mujeres nunca crearon, las mujeres nunca existieron.
Cuando éramos niñas y comenzamos a leer, los libros nos enseñaron que los niños podían hacer cualquier cosa: explorar y conquistar, combatir la injusticia, salvar a otros y a ellos mismos. Los mismos libros nunca mostraron que las chicas pudieran hacer lo mismo. Nos hicieron creer que debíamos esperar a que un chico viniera a salvarnos. Porque en los libros y en los cuentos de hadas, las únicas mujeres con poder son las brujas y se nos dice que las brujas son malas. Están destinados a ser feas, mezquinas y siempre solas.
Cuando éramos niñas y empezamos a ir a la escuela, miramos a nuestro alrededor y lo único que vimos fueron niños: corriendo, ocupando el espacio como si solo les perteneciera a ellos, explorando y conquistando, como en los libros que leemos.
¿Las chicas? Estábamos atrapadas en las márgenes, siempre discretas, siempre tranquilas, porque se supone que una chica es así, ¿verdad? Bonita con ropa bonita la cual nos impide correr, el pelo bonito que nos impide ver. Suave y dulce, incapaz de defenderse cuando los niños venían a levantar nuestras faldas o nos robaban besos, no pudimos encontrar ayuda porque los adultos solían mirar hacia otro lado y decir "los niños serán niños".
Cuando éramos niñas y empezamos a hablar, aprendimos francés, un idioma en el que las mujeres no están en ninguna parte, un lenguaje que tiene reglas como "la forma masculina tiene prioridad sobre la forma femenina". Cuando crecimos y aprendimos otros idiomas, nos dimos cuenta de que no era solo el francés. En la mayoría de los idiomas, las mujeres no existen.
Cuando éramos niñas y nos encantaba ir a clase, también nos encantaba aprender sobre historia y literatura, ciencias y artes. Pero sólo nos contaron sobre lo que los hombres crearon. Lo que hicieron los hombres para la Historia, lo que escribieron, lo que los hombres inventaron … nunca nos contaron sobre Alice Guy, quien inventó el cine como lo conocemos, ni sobre Nelly Bly, quien revolucionó el periodismo contra todo pronóstico, ni Emmy Noether, que fue crítica en la historia del desarrollo de las matemáticas, ni Mary Andersen, Maria Telkes, Grace Hopper, Stephanie Kwolek, Ann Tsukamoto …
Nunca supimos que las mujeres inventaron balsas salvavidas, jeringas, refrigeradores, máquinas de helados, instrumentos de procesamiento de datos, tecnología de telecomunicaciones, transferencia inalámbrica, videovigilancia, sierras circulares, calefacción central, cohetes de socorro, vidrio transparente, puentes suspendidos, submarinos …
Nunca supimos que fuimos nosotras quien descubrimos la estructura del ADN, el código genético de las bacterias, la composición química de las estrellas, cientos de planetas, materia oscura, fisión nuclear, la terapia para la leucemia, la terapia para el virus del papiloma humano, los cromosomas X e Y.
Nunca aprendimos sobre Enheduanna, primera escritora conocida, sobre Fátima el Fihriya, quien fundó la Universidad más antigua del mundo, sobre Trotula de Salerna, que fue una de las primeras personas en hablar sobre salud y ginecología de la mujer. Nunca supimos de las mujeres fuertes y valientes que lucharon contra la colonización en todos los continentes: Fatma N'Souer en Argelia contra los franceses, Manuela Sáenz en Sudamérica contra los españoles, Tarenorerer en Australia contra los británicos.
Nunca supimos que combatimos en guerras y viajamos, que exploramos y descubrimos, nunca supimos que hemos liderado personas y ejércitos, inspiramos y creamos. Nunca supimos que hemos volado y navegado, que éramos pilotas y piratas … nunca lo supimos porque nadie nos lo dijo.
Todas nuestras vidas, como niñas, como mujeres jóvenes, nos dijeron que así era, nos dijeron "las mujeres nunca inventaron nada". Nunca vimos modelos femeninos fuertes y complejos en los libros de historia, televisión, radio, política, museos, películas … no nos encontramos en ninguna parte.
A menudo se dice que las niñas comienzan a sentir que son menos que los niños alrededor de los 6 años. ¿Por qué no lo haríamos cuando se hace todo lo posible para limitar nuestro universo? En un mundo donde todo es masculino, desde el nombre de nuestras calles hasta el carácter de los libros que amamos, desde Dioses hasta Presidentes, ¿cómo podemos soñar que somos fuertes, inspiradores, completos?
Pensamos en todas estas mujeres que se borran … Todas estas mujeres a las que se nos impide admirar o aspirar a ser. Sus meras existencias se destruyen para hacernos creer que no podemos lograr nada, que solo existimos para ser hermosas y cuidar a los demás … nos hubiera encantado saber acerca de todas ellas antes, saber sus nombres. Todas estas mujeres que hicieron historia pero fueron olvidadas. Artistas, científicas, activistas, heroínas, sobrevivientes que desaparecieron de nuestros recuerdos colectivos debido al sexismo.
Como mujeres, creemos que tenemos el deber de contar sus historias, todas ellas. A nuestras hermanas, a las chicas que nos rodean y al mundo. Porque hablar de ellas es hablar de nosotras mismas. Retomar nuestras voces, nuestros lugares, es recuperar a nuestras vidas.
– RadicalGirlsss