A Letter to the Young Woman I Once Was (And Still Am)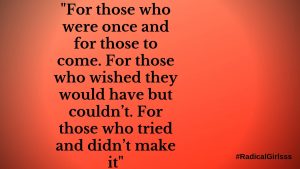 #RadicalGirlsss #WhyRadical #RGWeekly 🔥🔥🔥
FR & ES BELOW
____________________________________________
One day, you will look back and realize that there was no shame in being angry.
You will look back and realize that you were nor selfish, nor wrong to object and to speak to structures in which women, of all ages and all backgrounds, are systematically oppressed.
Systematically disregarded. Systematically wounded. Systematically harmed. Systematically scarred. Systematically beaten. Systematically brutalized. Systematically raped. Systematically killed. Systematically silenced.
One day, you will look back and realize that your outcries, your "no's", your resistance, they were fundamental for you to not engage in the same patterns of silent obedience and acquiescence. You will realize that your conscient objection had a deeper meaning: that of leaving a world behind in which girls, like the one you once were, are not systematically oppressed.
Systematically coerced. Systematically scared. Systematically dead.
Speak, young woman, speak out. Question, young woman, question those codes which want to reduce you to a body. A mother, a wife. A tomb. Question that which smells and feels unfair.
Scream, young woman, scream your no's and your wants, scream your don'ts and your knots.
Use your body as a political tool.

Use your voice, as to not be silenced. Use your fist, as to raise it in the air and object. Use your eyes, as to testify the raw truth and fight against it. Use your feet and legs, as to stand firm.
Practice your disobedience. Practice disruptiveness. Practice defiance, revolt, rebellion. Do not comply. Be resilient. Exist in spaces you shouldn't. Be physically and mindfully present, in those places where they would rather not have you. Do not let your anger corrode you, use it.
Do it for you. Do it for your sisters, your mothers, your grandmothers. For those who were once and for those to come. For those who wished they would have but couldn't. For those who tried and didn't make it.
– RadicalGirlsss
FR_________________________________
Une lettre à la jeune femme que j'ai été (et que je suis toujours)
Un jour, tu regardas en arrière et tu te rendras compte qu'il n'y avait aucune honte à être en colère.
Tu regarderas en arrière et tu te rendras compte compte que tu n'étais ni égoïste, ni mauvais d'objecter et de parler à des structures dans lesquelles des femmes, de tous âges et de tous horizons, sont systématiquement opprimées.
Systématiquement négligées. Systématiquement blessés. Systématiquement lésées. Systématiquement marquées. Systématiquement battues. Systématiquement brutalisées. Systématiquement violées. Systématiquement tuées. Systématiquement réduites au silence.
Un jour, tu regarderas en arrière et tut e rendras compte que tes cris, tes «non», ta résistance, étaient essentiels pour que que tu ne t'engages pas dans les mêmes modèles d'obéissance silencieuse et d'acquiescement. Tu réalisera que ton objection de conscience avait un sens plus profond: celle de laisser un monde derrière, dans lequel les filles, comme celle que tu étais autrefois, ne sont pas systématiquement opprimées.
Systématiquement forcées. Systématiquement peur. Systématiquement mortes.
Parle, jeune femme, parle. Questionne, jeune femme, questionne les codes qui veulent te réduire à un corps. Une mère, une femme. Une tombe. Questionna ce qui sent et se sent injuste.
Crie, jeune femme, crie ton non et tes désirs, crie ton non et ses noeuds.
Utilisez votre corps comme un outil politique.
Utilisez votre voix pour ne pas être réduit au silence. Utilisez votre poing comme pour le soulever et objectez-vous. Utilisez vos yeux pour témoigner de la vérité et lutter contre elle. Utilisez vos pieds et vos jambes pour rester ferme.
Pratique ta désobéissance. Pratique la perturbation. Pratique le défi, la révolte, la rébellion. Ne te conforme pas. Sois résiliente. Existe dans des espaces où tu ne devrais pas exister. Sois présente physiquement et spirituellement, dans les endroits où ils préféreraient ne pas t'avoir. Ne laisse pas ta colère te corroder, utilise-la.
Fais-le pour toi. Fais-le pour tes soeurs, tes mères, tes grands-mères. Pour celles qui étaient une fois et pour celles à venir. Pour celles qui ont souhaité le faire, mais n'ont pas pu. Pour celles qui ont essayé et n'ont pas réussi.
– RadicalGirlsss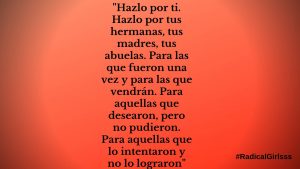 ES___________________________________________
Una carta a la joven que una vez fui (y aún soy)
Un día, mirarás hacia atrás y te darás cuenta de que no había vergüenza en estar enojada.
Mirarás hacia atrás y te darás cuenta de que no eras egoísta ni te equivocabas al objetar y hablar de estructuras en las que las mujeres, de todas las edades y todos los horizontes son oprimidas sistemáticamente.
Sistemáticamente rechazadas. Sistemáticamente heridas. Sistemáticamente perjudicadas. Sistemáticas cicratrizadas. Sistemáticamente golpeadas. Sistemáticamente brutalizadas. Sistemáticamente violadas. Sistemáticamente asesinadas. Sistemáticamente silenciadas.
Un día, mirarás hacia atrás y te darás cuenta de que tus protestas, tus "nos", tu resistencia, fueron fundamentales para que no te involucraras en los mismos patrones de obediencia silenciosa y de aquiescencia. Te darás cuenta de que tu objeción de conciencia tenía un significado más profundo: el de dejar atrás un mundo en el que las mujeres, como la que eras antes, no son oprimidas sistemáticamente.
Sistemáticamente coaccionadas. Sistemáticamente asustadas. Sistemáticamente muertas.
Habla, joven, habla. Cuestiona, joven, cuestiona esos códigos que quieren reducirte a un cuerpo. A una madre, a una esposa. A una tumba. Cuestiona aquello que huele y se siente injusto.
Grita, jovencita, grita tus nos y tus necesidades, grita tu no y tus nudos.
Usa tu cuerpo como herramienta política.
Usa tu voz, para que no seas silenciada. Usa tu puño, para levantarlo en el aire y objetar. Usa tus ojos, como testimonio de la verdad cruda y lucha contra ella. Usa tus pies y piernas, para mantenerse firme.
Practica tu desobediencia. Practica la interrupción. Practica el desafío, la revuelta, la rebelión. No cumplas. Sé resistente. Existe en espacios en los cuales no deberías. Sé presente física y mentalmente, en aquellos lugares donde preferirían no tenerte. No dejes que tu ira te corroa, úsala.
Hazlo por ti. Hazlo por tus hermanas, tus madres, tus abuelas. Para las que fueron una vez y para las que vendrán. Para aquellas que desearon, pero no pudieron. Para aquellas que lo intentaron y no lo lograron.
– RadicalGirlsss