#RadicalGirlsss #WhyRadical #RGWeekly 🔥🔥🔥
FR & ES BELOW
---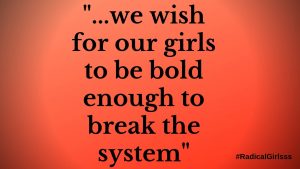 When asked to write the first post, we took the task with so much enthusiasm, although we weren't convinced about the different topics of discussion. Then, we spent a couple of hours writing down sentences about prostitution, feminism, solidarity and equality, but as the words were taking form on the document, it sounded so academic and very far from our own feelings.
That's why we found ourselves deleting different sentences and writing down disconnected thoughts around anger and vulnerability.
Anger, as young women are trying so hard to resist, while fighting to ensure that our existence is recognized.
We resist, even when the world doesn't notice that we exist.
Vulnerability, as days pass and we find ourselves compromising our dreams, and, inevitably, our own emotions.
Anger, despair, a world in which girls are not free to express their concerns led to the creation of Radical Girlsss.
What is the point for us, for the young women we are working with, to discuss about feminism, prostitution and secularism, if we are within a feminist movement that is missing the urgency and the need of working in solidarity?
What is the point for us to bring to the table different themes, trying to influence people, if we are inevitably missing ourselves and the joy of raising our voices and scream truth to power?
The bitter truth is that the rights of women are slowly becoming a business where our stories are treated as statistics and numbers without any feeling or humanity. And we are not willing to be trapped in this system.
Anger, feeling hopeless, wishing a world in which young girls are free to express their concerns have led to the creation of Radical Girlsss.
While young women are trying to claim their spaces, we wish for young girls to be brave enough to create their own platforms without apologizing to the other generations.
While young women are trying to fit as much as possible in the existing system, we wish for our girls to be bold enough to break the system and build that needed solidarity to take down the streets and claim their rights without fear.
We are ambitious enough to think that we will impact the lives of girls, to make sure that they will ask for what they want without feeling sorry. We own our ideas, our thoughts, our creativity, our voices and our stories.
The truth is that being courageous doesn't necessarily mean being fearless; we fear everyday, as we live in a world dominated by patriarchy and violence.
We fear due to the lack of solidarity and humanity. We've completely lost the sense of stopping time and taking care of the person that we have next to us.
In Radical Girlsss, we wish to support our girls to not lose their feelings and humanity, to be the fierce generation who isn't afraid to show to the world their vulnerabilities and scars of resilience.
If for some of you, Radical Girlsss may sound like something unique, you are right. Good things are coming from it.
– RadicalGirlsss
FR__________________________________________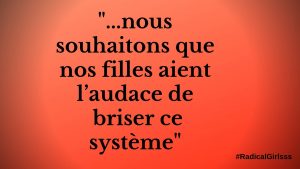 Lorsqu'on nous a demandé d'écrire le premier post, nous avons pris la tâche avec beaucoup d'enthousiasme, même si nous n'étions pas convaincues des différents sujets de discussion. Nous avons passé quelques heures à écrire des phrases sur la prostitution, le féminisme, la solidarité et l'égalité, mais au moment où les mots prenaient forme, cela sonnait académique et très éloigné de nos propres sentiments.
C'est pourquoi nous avons supprimé différentes phrases et noté des pensées détachées sur la colère et la vulnérabilité.
Colère, alors que les jeunes femmes s'efforcent de résister, tout en luttant pour que notre existence soit reconnue.
Nous résistons, même lorsque le monde ne remarque pas que nous existons.
Vulnérabilité, à mesure que les jours passent et que nous nous trouvons à faire des compromis avec nos rêves et inévitablement avec nos propres émotions.
La colère, le désespoir, un monde dans lequel les jeunes filles sont libres d'exprimer leurs préoccupations ont conduit à la création de Radical Girlsss.
Quel est l'intérêt pour nous, pour les jeunes femmes avec lesquelles nous travaillons, de débattre féminisme, prostitution et laïcité, si nous faisons partie d'un mouvement féministe qui manque de l'urgence et de la nécessité de travailler dans la solidarité?
Quel est l'intérêt pour nous d'apporter différents thèmes, d'essayer d'influencer les gens, si nous nous perdons inévitablement nous-mêmes et la joie d'élever nos voix et de crier la vérité au pouvoir?
L'amère vérité est que les droits des femmes deviennent peu à peu un business dans lequel nos histoires sont traitées comme des statistiques et des chiffres sans aucun sentiment ni humanité. Et nous ne voulons pas être piégés dans ce système.
La colère, le désespoir, le souhait de voir un monde dans lequel les jeunes filles sont libres d'exprimer leurs inquiétudes ont conduit à la création de Radical Girlsss.
Alors que les jeunes femmes tentent de revendiquer leurs espaces, nous souhaitons que les jeunes filles aient le courage de créer leurs propres plateformes sans s'excuser auprès des autres générations.
Alors que les jeunes femmes essaient de s'intégrer le plus possible dans le système existant, nous souhaitons que nos filles aient l'audace de le briser et de construire la solidarité dont elles ont besoin pour défiler dans la rue et revendiquer leurs droits sans crainte. Nous sommes assez ambitieuses pour penser que nous allons avoir un impact sur la vie des filles et nous assurer qu'elles demanderont ce qu'elles veulent sans s'en excuser. Nous possédons nos idées, nos pensées, notre créativité, nos voix et nos histoires.
La vérité est que le courage ne signifie pas nécessairement ne pas avoir peur; nous avons peur tous les jours, puisque que nous vivons dans un monde dominé par le patriarcat et la violence.
Nous craignons en raison du manque de solidarité et d'humanité. Nous avons complètement perdu le sens d'arrêter le temps, de prendre le temps, le sens de s'occuper de la personne que nous avons à côté de nous, de nos proches.
Dans Radical Girlsss, nous souhaitons aider nos filles à ne pas perdre leurs sentiments et leur humanité, à être la génération féroce qui n'a pas peur de montrer au monde ses vulnérabilités et ses cicatrices de résilience.
Si pour certains d'entre vous, Radical Girlsss peut sembler être quelque chose d'unique, vous avez raison. De bonnes choses en viennent.
– RadicalGirlsss
ES___________________________________________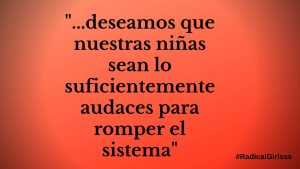 Cuando se nos pidió que escribiéramos la primera publicación, tomamos la tarea con mucho entusiasmo, aunque no estábamos convencidas de los diferentes temas de discusión. Luego, pasamos un par de horas escribiendo frases sobre la prostitución, el feminismo, la solidaridad y la igualdad, pero a medida que las palabras tomaban forma en el documento, todo sonaba muy académico y muy lejos de nuestros propios sentimientos.
Es por eso que nos encontramos borrando diferentes frases y anotando pensamientos desconectados sobre la ira y la vulnerabilidad.
Ira, ya que las mujeres jóvenes se esfuerzan por resistir, mientras luchan por asegurar que se nos reconozca nuestra existencia.
Resistimos, incluso cuando el mundo no se da cuenta de que existimos.
Vulnerabilidad, a medida que pasan los días y nos encontramos comprometiéndonos con nuestros sueños, e inevitablemente con nuestras propias emociones.
¿Cuál es el punto para nosotras, para las mujeres jóvenes con las que trabajamos, discutir sobre feminismo, prostitución y secularismo, si estamos dentro de un movimiento feminista al que le falta la urgencia y la necesidad de trabajar en solidaridad?
¿Cuál es el punto para nosotras de traer a la mesa distintos temas, tratar de influir en las personas, si inevitablemente nos extrañamos a nosotras mismas y a la alegría de elevar nuestras voces y gritar la verdad al poder?
La dura verdad es que los derechos de las mujeres se están convirtiendo lentamente en un negocio en el que nuestras historias se tratan como estadísticas y números sin ningún sentimiento o humanidad. Y no estamos dispuestos a quedarnos atrapadas en este sistema.
La ira, sentirse desesperada, desear un mundo en el que las jóvenes sean libres de expresar sus inquietudes han llevado a la creación de Radical Girlsss.
Mientras las mujeres jóvenes intentan reclamar sus espacios, deseamos que las niñas sean lo suficientemente valientes para crear sus propias plataformas sin disculparse frente a las otras generaciones.
Mientras que las mujeres jóvenes intentan encajar lo más posible en el sistema existente, deseamos que nuestras niñas sean lo suficientemente audaces para romper el sistema y construir la solidaridad necesaria para salir a las calles y reclamar sus derechos sin temor. Somos lo suficientemente ambiciosas para pensar que podemos impactar las vidas de las niñas, para asegurarnos de que pedirán lo que quieren sin sentir pena o verguenza. Somos dueñas de nuestras ideas, nuestros pensamientos, nuestra creatividad, nuestras voces y nuestras historias.
La verdad es que ser valiente no significa necesariamente ser intrépida; tememos todos los días, ya que vivimos en un mundo dominado por el patriarcado y la violencia.
Tememos por la falta de solidaridad y humanidad. Hemos perdido por completo el sentido de detenernos y cuidar a la persona que tenemos a nuestro lado.
En Radical Girlsss, deseamos ayudar a nuestras niñas a no perder sus sentimientos y su humanidad, a ser la generación feroz que no tiene miedo de mostrar al mundo sus vulnerabilidades y cicatrices de resistencia.
Si para algunos de ustedes, Radical Girlsss puede sonar como algo único, tenéis razón. Cosas buenas vendrán de ello.
– RadicalGirlsss