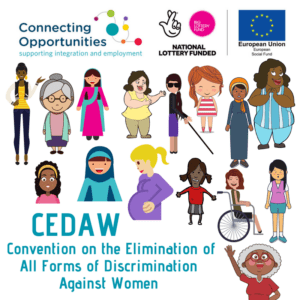 The piece below aims to raise awareness about CEDAW (Convention on the Elimination of All Forms of Discrimination Against Women) through imagining her as a real woman.
It offers a brief insight into the issues women migrants might be up against and offers suggestions for actions on the ground service providers could take to support women migrants with their struggles.
These solutions and suggestions emerge from the women-centred framework being developed to address needs of women migrants through Connecting Opportunities – a project based in the UK. Connecting Opportunities works with new migrants to develop their skills and opportunities to find work and be part of the local community. It is funded by the European Social Fund and the National Lottery, through the Big Lottery Fund.
If CEDAW Was a Real

Woman
Women-Centred Ways of Working with Women Migrants
CEDAW was born on 3rd September 1981. If she was a real woman, she would be 37 this year. According to the Chinese zodiac she would be a Virgo, with Earth as her element – therefore loyal, hardworking, analytical, practical. We might assume all sorts of things about her.
She may be a confident, eloquent and aspiring woman who has found her place in the world by now. Nevertheless, as a woman, on average she is nearly 10% less likely to read & write, more likely to struggle with her mental health, be paid less, and bear a heavier load than men in balancing her work and caring responsibilities. Adding the fact that this 37-year-old could have come from a different country multiplies the number of cultural barriers to inclusion she may experience. She is likely to be a woman of colour, she might speak many languages but not the local one, her educational achievements might not be recognised, and she might dress differently or cover her hair because of her faith.
If we want to offer CEDAW support we need to place her at the heart of what we do.
We must listen to what she wants and how she makes sense of her lived experiences; offer our skills without judgement in a safe space where she can be herself; and work with other trusted organisations to offer her the best specialist support, because that is her right. More than that, we need to understand that the gender playing field is not even and work in a women-centred way to address this.
Women-centred ways of working go beyond a person-centred approach by taking into account structural gendered inequalities and injustices.
Women-centred ways of working go beyond a person-centred approach by taking into account structural gendered inequalities and injustices. WomenCentre has experience of working with women in the communities in Kirklees and Calderdale, West Yorkshire, for over 30 years. More recently, as part of Connecting Opportunities, we have been exploring practical ways of embedding a women-centred framework within work with women migrants. Additionally, our partner organisations have been able to offer their rich experiences of working with people who come to the UK from different countries.
WomenCentre has offered gender-awareness sessions with staff and volunteers, creatively supported the development of women-centred case studies, engaged in discussions about some of the complexities that women migrants might experience in the UK and identified and developed practical and achievable solutions for some of the challenges women migrants face. These range from the provision of sanitary products in female toilets to trialling inspirational tools, which encourage women to explore career and learning options beyond gender stereotypes.
To celebrate the thirty-seventh year CEDAW has been around, we hope to stay loyal to 'her zodiac' characteristics; we will continue to work hard using our analytical minds to create practical tools to further develop good practice and more gender-aware service delivery.
The aim is to summarise our learning in a report discussing the challenges, offer tools and guidance we have developed on women-centred ways of working with women migrants. We would like to introduce a 'working towards being women-centred pledge' – an idea inspired by other initiatives. We hope the pledge will not only encourage and enable our project partners to demonstrate their ongoing commitment to women-centred approaches, but also inspire other organisations to consider the benefits this framework might bring to their work.
Now, imagine you are blowing the candles on CEDAW's cake – you might want to make a wish to play a part in our future pledge.