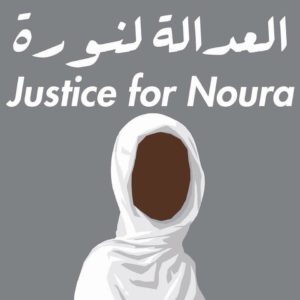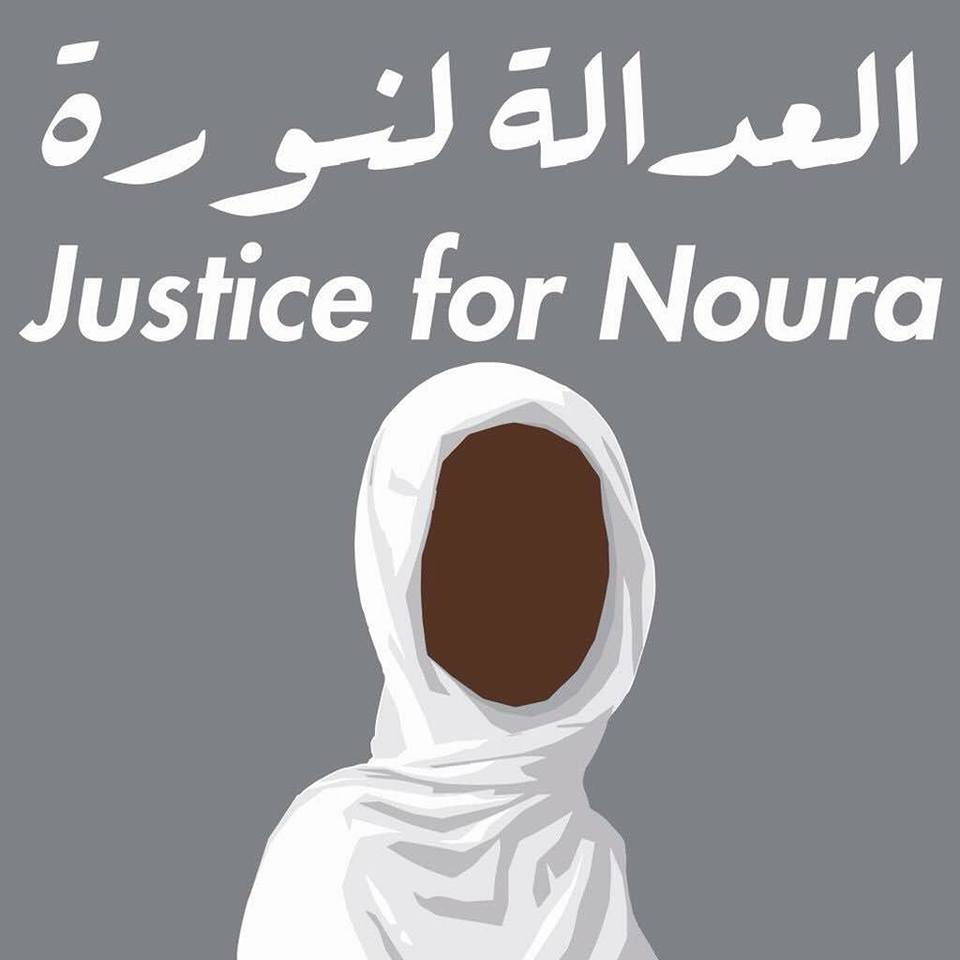 NOURA HUSSEIN HAMMAD

19 y.o. SUDAN
SURVIVOR of
CHILD & FORCED MARRIAGE
HONOUR BASED VIOLENCE
DOMESTIC VIOLENCE
RAPE
RELIGIOUS VIOLENCE
DEFENDED HER LIFE & DIGNITY
SENTENCED TO DEATH on 10 May 2018
DEATH SENTENCE OVERTURNED on 26 June 2018
Brussels, Sunday 13 May 2018
On 10 May 2018 Sudanese court OMDURMAN KHARTOUM, governed by the Sharia Law of Sudan, issued a death sentence, by hanging, to Noura Hussein for killing the man to whom she was forcibly married while defending herself against rape and sexual abuse at his hands.
Noura Hussein was forcibly married off at the age of 16 years and was subjected to sexual and physical violence by her "husband". In self-defense, Noura killed her "husband" after he attempted to rape her, yet again after having raped her while she was held down by his relatives.
In many countries victims like Noura would be provided services to ensure that they overcome the trauma of their experiences. Criminalization of Noura for defending herself from assault and in particular a death sentence violates her rights under the Sudanese Constitution and international law, including the Maputo Protocol.
Noura suffered both physical and mental abuse at the hands of her family and husband, a violation of Articles 14 (protection of children) and 15 (no marriage without free and full consent) of the Constitution. The Constitution further provides that the "State shall protect women from injustice and promote gender equality," and that "all persons are equal before the law and are entitled without discrimination, to the equal protection of the law."
Sudan is also obligated under several international legal instruments, including The African Charter on Human and Peoples' Rights and the International Covenant on Civil and Political Rights (ICCPR) to which it is a party, to prevent victims from being criminalized and to ensure that men and women are treated equally in the eyes of the law.
As of 10 May 2018 Noura's defence has 15 days to appeal her death penalty.
Yasmeen Hassan, director of Equality Now, on the case of Noura Hussein.
INTERNATIONAL CAMPAIGN #JusticeForNoura
Sudanese Human Rights NGO defending the rights of victims of gender based violence in Sudan has been providing support to Noura and campaigning for justice since the beginning of the case.
Africa Youth Movement (@badreldins @AfrikaYM ) volunteers in Sudan have been supporting the case and campaigning for the case to become public despite the crackdown on the freedom of press in Sudan.
Sodfa Daaji (@Sodfadaaji), Chairwoman of the Gender Equality Committee North Africa, Coordinator Africa Youth Movement and member of European Network of Migrant Women, has been mobilising the European and international campaign #JusticeForNoura.
European Network of Migrant Women (@ENOMW) has been supporting Sodfa in organising the campaign and submitting appeals to UN bodies, including the appeal to OHCHR on 9 May 2018, the day before Noura's death penalty was issued, as well as the appeals to the African Union bodies.
Equality Now (@EqualityNow) has been supporting #JusticeForNoura, has joined efforts with the European Network of Migrant Women since the death penalty was announced, and submitted the letter to Sudan's president appealing to drop all criminal charges against Noura.
As of Saturday 12 May 2018, UN Women and United Nations have officially joined the campaign #JusticeForNoura and issued an Appeal for clemency for Noura.
Wednesday 16 May the legal defence team of Noura, that currently consists of more than 10 lawyers, was planning to have a press conference to announce their progress on the case. However, they were forced to cancel it due to the fact the that NISS (National Intelligent and Security Services) broke into the lawyers' office and banned the conference.
Thursday 17 May African Committee of Experts on the Rights and Welfare of the Child (ACERWC) issued an Urgent Appeal to the Republic of Sudan, in which they "urge the Government of the Sudan to ensure the non-execution of the death sentence pronounced against Noura and to ensure that she gets fair retrial that takes in to account all the mitigating circumstances of her case. The Committee further urges the Government to take measures towards ensuring accountabilityof those who officiated the forced marriage of Noura and the family members of the deceased husband that assisted in her rape."
Following the appeal submitted by the team of Noura's lawyers, the death sentence of Noura was overturned on 26 June 2018 and she was sentenced instead to a five-year sentence in prison and a fine of Euro 9000. As of 3 July 2018 the lawyers are preparing a new appeal in the Supreme Court of Sudan.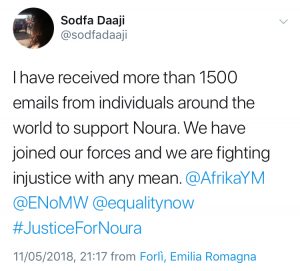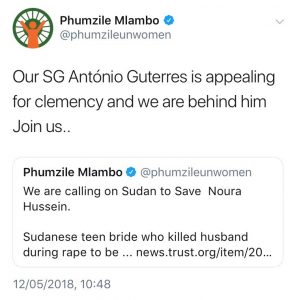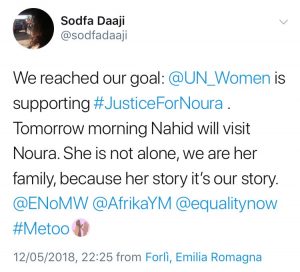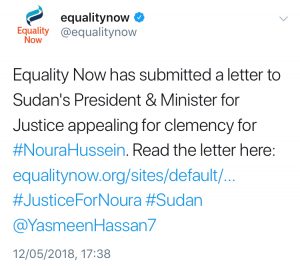 URGENT NEED FOR REGIONAL MEDIA & CIVIL SOCIETY TO SPEAK UP FOR JUSTICE FOR NOURA
To save Noura's life we urgently need to amplify the voice of #JusticeForNoura within African as well as Arab regions. Volume and pressure of international community can play a role but nothing will replace the support and solidarity of Noura's fellow citizens.
We appeal to all media outlets in the African & Arab world to take a conscientious position and demand justice for Noura by giving a fair and diligent coverage of her story
We appeal to all civil society in the African & Arab world to take a conscientious position and actively support #JusticeForNoura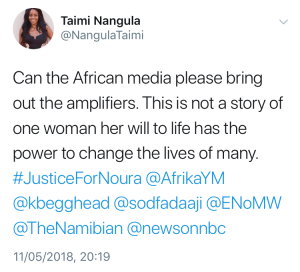 IMPORTANCE OF NOURA'S CASE FOR WOMEN AND GIRLS
Noura's case is significant for many reasons: not only because she is one of the many women in a similar situation – subjected to patriarchal male violence, blamed and abandoned by community, at the mercy of religious laws, without recourse to justice.
She is also one of the many women who refused to be subjected to this violence and stood up to defend her dignity and her fundamental rights to life free from oppression.
There are many more women like Noura who cannot be heard.
There are many more countries where women like Noura cannot be heard.
Noura's courage, her will to a dignified life, her integrity and her faith in justice is a message to ALL women and girls.
It is also a message to the sexist & religious violence against women: we will fight back.
ORGANISATIONS CONDEMNING NOURA'S DEATH PENALTY AND DEMANDING #JusticeForNoura
email your support to: justicefornoura@gmail.com or add your organisation & country here
AFRICA, MENA, ARAB STATES
Afrika Youth Movement, Africa – Aya Chebbi
Akina Mama Wa Afrika, Africa – Eunice Musiime
The African Middle Eastern Leadership Project ( AMAL ), Africa – Mohamed Abubakr
SEEMA, Sudan – Nahid Jabrallah
Comité Soudan, Sudan – Diagne Chanel
Foundation for democracy and accountable governance South Sudan – Jame David Kolok
Women's Rights Activist Nigeria, Nigeria – Ayesha Imam
Equality Uganda, Uganda – Deo Walusimbi
Zambia Council for social development, Zambia – Lewis Mwape
Association des droits de la femme ( SFBLSP ) Burundi, Burundi – Espérance Ntirampeba
Le Mouvement Alternatif pour les Libertés Individuelles (M.A.L.I.), Maroc – Ibtissam Lachgar
Edo Women's Development Initiative (EWDI), Benin City, Nigeria
Life Bloom Services International, Kenya
Ghana NGO Coalition on the Rights of the Child, Ghana
Open Society, Kenya
Women Consortium of Nigeria (WOCON), Nigeria Masimanyane Women's Rights International, South Africa Stigamot, Iceland
MEMPROW, Uganda
MS, Republic of South Africa
UKZN, South Africa
Trace Kenya, Kenya
Gender Equity Unit, South Africa
Right to Know Campaign, South Africa
Gender Studies and Human Rights Documentation Centre, Ghana Ilitha Labantu, South Africa
Tanzania Organization for Agricultural Development (TOfAD) – Emmanuel Chidong'o
Support for Women in Agriculture and Environment (SWAGEN), Uganda – Gertrude Kenyangi
Mediterranean Youth Climate Network, Mediterranean – Soumeya Lerari Mouzai
Forum Femmes Méditerranée, Mediterranean – Esther Fouchier
INTERNATIONAL AND EUROPEAN
United Nations Secretary General – António Manuel de Oliveira Guterres
UN Women – Phumzile Mlambo-Ngcuka
Equality Now, International – Yasmeen Hassam
Amnesty International
Women Living Under Muslim Laws, International – Mariem Helie Lucas
International Migrants Alliance (IMA), Global
Kurdish Culture Project, International – Houzan Mahmoud
Fight Inequality Alliance, International – Njoki Njehu
European Network of Migrant Women, Europe – Salome Mbugua
European Women's Lobby, Europe – Joanna Maycock
Women Against Violence Europe, Europe – Lepa Mladjenovic
Europe Solidaire Sans Frontière, Europe – Pierre Rousset
Ligues des droits de l'Homme, France – Philippe Senegas
Mujeres de Negro, Spain – Yolanda Roviller
Comité de Réflexion et d'action laique de Seine – Maritime, France — Francis Vanhee
Vivre autrement, Switzerland – Pierre Pradervand
Mouvement de Libération des femmes en France, France – Jacqueline Feldman
Collectif 13 des droits des Femmes, France – Daniela Levy
Women in Black Belgrade, Serbia
Coordination of Italian Women's Lobby, Italy – Maria-Ludovica Bottarelli
Associazione Iroko Onlus, Italy – Esohe Aghatise
Marea, Italy – Laura Guidetti
Southall Black Sisters, UK – Pragna Patel
One Law for All, UK – Maryam Namazie
Medicor Foundation, Liechtenstein
Asia Pacific Mission for Migrants (APMM), Hong Kong