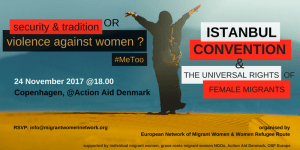 Copenhagen, 24-25 November
To mark the 16 Days of Activism Campaign against Gender Based Violence we went to Copenhagen where, together with our Danish member Women Refugee Route (WRR), we organised a public event "Security and Tradition OR Violence against Women? Istanbul Convention and the Universal Rights of Female Migrants". Our event also coincided with the publication of GREVIO Evaluation Report on Denmark released on 24 November, with one of the shadow rapporteurs to the GREVIO Committee as one of the panelist.
Why Denmark? Why Istanbul Convention? Why Migrant Women?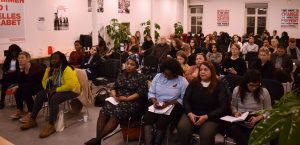 Denmark is known as one of the most progressive states in Europe. Not accidentally, the Business Insider ranks Denmark as "the second best country for women to live in". But how accurate is this ranking and what factors do we consider when we name a place "best" for women?
As a feminist platform, together with the Women Refugee Route, a Denmark based NGO founded by the Kurdish feminist refugee Mina Jaf, we came to Denmark to discuss these questions. Hosted by Action Aid Denmark, our two panel event addressed the Universal Human Rights of Migrant and Refugee Women in Europe, in conjunction with their fulfillment under the Istanbul Convention and with a specific focus on Denmark – the country that follows a unique legal path, having opted out of a number of EU Directives, particularly those dealing with the rights of migrants, refugees and the victims of trafficking.
Istanbul Convention, widely recognized as the most comprehensive instrument on the rights of women in Europe, for Denmark presents one of the few legal frameworks, that can substantively protect not only selected few, but ALL women. This is what the speakers in our panels focused on, and this is what we invited the audience to address together with us.
Among the subjects we discussed were the situation of women dying at sea, violence and discrimination faced by women asylum seekers, Gender-Based Persecution in asylum claims, forced marriage and FGM, trafficking and sexual exploitation of migrant women, mental health and trauma, traditional gender roles and stereotypes as vehicles of male violence, as well as economic integration and empowerment of migrant women. We also addressed the legal failures and deficiencies in the Danish context to fulfill the rights and protection for female migrants.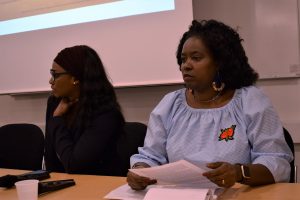 "Women coming to Europe are seeking justice. They should be granted asylum on the basis of gender-based harms and persecution, and Istanbul Convention clearly underlines that. We invite you to join our struggle to defend the rights and dignity of the migrant and refugee women in Europe" – Salome Mbugua, ENOMW President (presentation "Istanbul Convention and the Rights of Migrant Women in Europe" )
---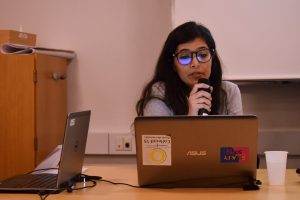 "To be able to fight violence and to protect the rights of migrant women it is important to understand the origins of this violnce, the reasons of its perpetuation and its consequences. On the basis of this analysis we can deduce that this violence is based on the division of roles between women and men in society, in other words, the gender stereotypes" – Noura Raad, Legal Expert, France (presentation "Istanbul Convention, Gender Stereotypes and the Origins of Sexist Violence")
---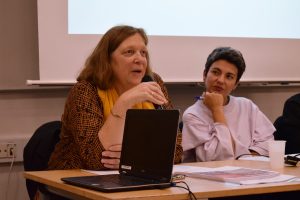 "Today is a good day. Finally we are beginning to speak about very serious problems that Danish society is facing in the area of Violence against Women. Denmark was unable to lift this burden on its own; only with the help of the international community we are able to highlight this problem. I estimate around 100.000 cases could be reopened because people didn't have their human rights protected" – Pia Deleuran, Danish Lawyer, VAWG Expert, shadow rapporteur to GREVIO
---
"When it comes to trafficking in women, Denmark is in a very weak position because it opted out of an important pillar of the European law within justice and home affairs. As a result, in Denmark we can't speak about the "reflection period" as required by the EU Anti-trafficking Directive. We only discuss the "departure period" as victims of trafficking are not allowed to stay in Denmark ," – Francesca Contarella, Lawyer, Human Trafficking expert (presentation "Human Trafficking in Denmark")
---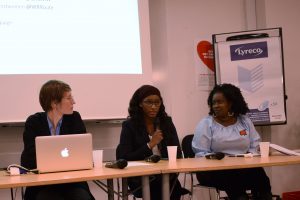 "As a survivor of FGM type 3, sometimes I feel I am not whole mentally. A part of my body was taken away without my consent…Woman's virginity and sexuality are very important in our societies. For them, subjecting us to Female Genital Mutilation is about keeping us "clean" and "controlling" us. This can take any form: a rite of passage, mutilation, tradition…" – Layla Saidy, Refugee in Denmark, survivor of FGM and women's rights activist
---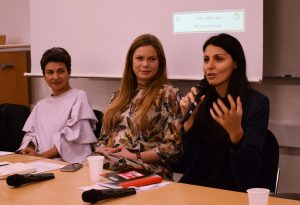 "As a society we greatly underestimate the trauma inflicted by violence, the long term effects of this trauma and the need for comprehensive services to recover from it. This trauma and this violence is passed from generation to generation; it is reproduced within families and even by women themselves. If violence is the only way of communication you learnt when you were child, this is what you will enact in all your relationships." – Mozhdeh Ghasemiyan, Psychologist and human rights activist in Denmark, Iranian refugee.
---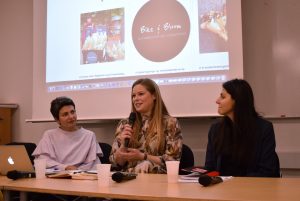 "I started this project because I see the situation of refugee women and because I am a woman myself. I see how women we employ start to bloom, taking pride in their work and the fact that they now have an independent income. It gives them confidence and gives me a great joy to observe these women progress and take the place they rightfully deserve in the Danish society" – Benedicte Mortensen, founder of Bike & Bloom Social Enterprise.
---
The conference was concluded with a discussion in which the audience raised the questions on practical application of the Istanbul Convention, the role of men in combating VAWG and the difficulties in addressing complex needs of migrant and refugee women.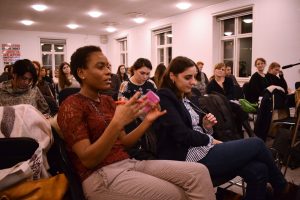 ACCESS THE SUMMARY OF THE PRESENTATIONS // WATCH THE VIDEO OF THE CONFERENCE
---
MIGRANT WOMEN MEETING: 25 NOVEMBER

Following the public, event we arranged an informal meeting among migrant women to discuss, in a safe space, the issues important for us. Several migrant women organisations, new and established ones, together with individual migrant women, attended the meeting in which we spoke about the ways to create greater solidarity within migrant women communities and to overcome internal patriarchal barriers, about the distribution of funds, working with wider feminist movement and the greater political landscape in Europe and beyond. We are also glad to report we have acquired new members to our network !
We would like to express special thanks to our two Danish members, Babaylan Denmark & Interkulturelt Kvinderåd IKR , as well as Venlingboerne Copenhagen, for supporting our visit !