We are pleased to invite you to Copenhagen to our event SECURITY & TRADITION OR VIOLENCE AGAINST WOMEN? Istanbul Convention and the Universal Rights of Female Migrants that will take place in Copenhagen on 24th of November. The panel is organized together with our Danish member Women Refugee Route.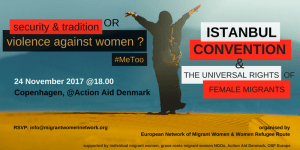 RSVP: Eventbrite
Event Details:
---
Across the world man-made and natural disasters, war and conflict are intensifying.
Europe has responded to this by increasingly militarising borders and externalising migration management to countries and regimes that women and girls are trying to flee. For these women, the price of freedom and justice is now subject to multiple forms of male violence en route. Those who make it to Europe continue to face abuse and discrimination through their asylum process
The few lucky ones who are granted refugee status are then confronted with labour and social exclusion, marginalising them from the outset.
They are also at risk of poverty, prostitution and sexual exploitation, while the violence they face within their own communities is justified on the grounds of "culture" and "tradition".
For the 16 Days of Activism against Gender-Based Violence Campaign starting on 25 November (the International Day for the Elimination of Violence against Women), European Network of Migrant Women and Women Refugee Route are organising a two-panel event to discuss the situation of migrant & refugee women in Europe.
We will tackle the violence and discrimination they face, de facto and de jure, and the role the Istanbul Convention can play in protecting the universal human rights of ALL women.
The event will also mark the launch of the second-phase of Nadia Bakhshi Award – the support scheme for female refugees ran by Melissa Network, Greece, and supported by European Network of Migrant Women.
Speakers include:
Ms Salome Mbugua, (ENOMW President, Founder of Wezesha Dada & AkidwA), Ms Noura Raad ( Legal Expert, Forum Femmes Mediterranee), Ms Mina Jaf (Founder of Women Refugee Route), Ms Zindzi Mandela (TBC) (Ambassador of South Africa to Denmark), representatives of the Danish Parliament and Danish Women's Council.
The event will be followed by a networking cocktail at 20.30h
inquires about the event: info@migrantwomennetwork.org
See you in Copenhagen!