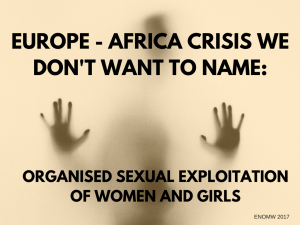 Brussels, 18 October 2017, EU Day Against Trafficking
---
Overview of Crisis
As of June 2017, the number of "migrants" which in this case references all those arriving by sea to
Italy, rose by 21% in comparison to the same period in 2016. These official statistics present a
composite number of economic migrants, refugees, as well as the victims of trafficking in human
beings. Nationals of Nigeria closely followed by Guinea account for the largest number of the
"migrants" utilising the central Mediterranean route to southern Italy. Statistics would suggest that
most of those arriving are young Nigerian males subjectively categorised as economic migrants
escaping poverty or civil unrest within their respective nations and becoming the victims the
smugglers on their way to Europe.
However, the statistics negate the sharp increase in the number of Nigerian women arriving in Italy.
As of March 2017, the International Organisation for Migration estimates that there has been an
almost ten-fold increase in the number of Nigerian women being trafficked to Italy and Europe
into prostitution, as well as, the worst form of it, the actual sexual slavery. This is an increase from
just over 1000 to over 11,000 in just three years; this is a women's crisis.