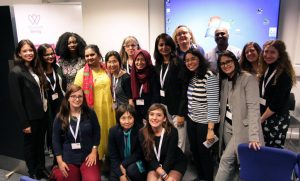 Edinburgh, 10-11 October 2017
We are extremely delighted to have been able to support and take part in the "International Interdisciplinary Conference on Gender Studies and the Status of Women" organised by our Supporting Member Women Being Project , jointly with Queen Margaret University of Edinburgh. The conference brought together participants from over 25 countries and gave them the opportunity to share and explore a range of diverse issues across several fundamental areas of women's rights globally: justice, employment, education, health, gender stereotypes, religion and culture, as well as cross cutting patriarchal violence against women and girls.
We hope to be able to take part in their event next year again !
ENJOY WATCHING RECORDED 2 DAYS OF CONFERENCE here >>> !
FULL CONFERENCE PROGRAMME here >>>