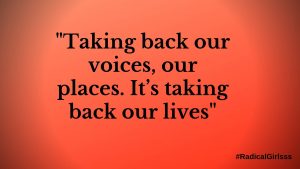 #RadicalGirlsss #WhyRadical #RGWeekly 🔥🔥🔥
FR & ES BELOW
All our lives, as girls, as young women, we have been told over and over that women never invented, women never created, women never existed.
When we were girls and first started reading, books taught us that boys could do anything – explore and conquer, fight injustice, save others and themselves. The same books never showed that girls were able to do the same. They made us believe that we were supposed to wait around for a boy to come and save us. Because in books and fairytales, the only women with power are witches and we are told that witches are bad. They are destined to be ugly, mean and always alone.
When we were girls and first started going to school, we looked around and all we saw were boys – running around, occupying space like it was theirs, exploring and conquering, similar to the books we read. Girls? We were stuck on the sides, always discreet, always calm, because a girl is supposed to be that way, right? Pretty with nice clothes that prevent us from running, nice hair that prevent us from seeing. Soft and sweet, unable to defend ourselves when boys came to lift our skirts or stole kisses, unable to find help because the adults used to always look the other way and say "boys will be boys".