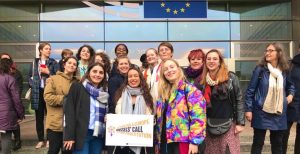 "No one gets trafficked because they are vulnerable but because someone benefits from it. If we get rid of profiteers, we can fight against trafficking of women and girls." – Myria Vassiliadou, European Commission Anti-Trafficking Coordinator at Brussels' Call 
The European Network of Migrant Women participated in the European Week of Action to End Sexual Exploitation (13-18 October 2019) organised by European Women's Lobby. 
Although it has been five years since the European Parliament adopted the Honeyball Resolution which recognises that prostitution violates human dignity and human rights and is a form of violence against women, there is still a lack of viable action in European institutions. Progress has been achieved with Northern Ireland (2015), France (2016) and the Republic of Ireland (2017) joining the Nordic countries, Sweden, Norway and Iceland, by introducing the Equality Model. Nevertheless, sexual exploitation of women remains a crucial component of sex-based discrimination across Europe and the globe. It is therefore of the utmost importance that we come together and call on European leaders to take action through the implementation of European legislative on prostitution.